The Undertow Personified?
Chatting to James on Paltalk last night it occurred to one of us that if we were to personify the Undertow it might look very like the Tarot version of the Devil, Atu XV. The devil has a very important function in the Tarot, and it is symbolised as male, therefore an active force, and not passive.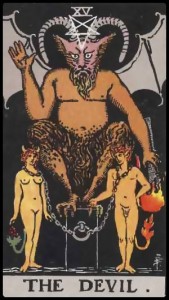 In Tarot lore, the function of the Devil is to help us find our true level. It starts with a small temptation, of the kind "Just a bit of this won't hurt, even though you know you shouldn't really."
If you laugh with it – the correct and resourceful response – it will bide it's time and return when your motivation is weaker, or it may try another tack "Oh you did so well not (say) joining in with that gossip, you can allow yourself something unhealthy on the way home as a reward." It is laughable, really, although at the time it can be difficult to laugh with the Devil at the silly things that tempt us. If you can laugh with the Devil, he accompanies you to you next level of development.
If you don't do what your intuition indicates is the right response, then it accompanies you down, and offers you something else as well, often co-opting people and things in the material world to help. Eventually, you both reach a level where you have both just had enough. After bumbling around on the bottom for a while, the devil will prompt you to get out and do something to improve. He is seen here setting fire to the man's tail. "Take those loose chains and those ridiculous costumes off and claim your true heritage."
The undertow leaves us washed up and exhausted, but we have no choice but to try again, wiser this time.
Random Posts