At the Center of the Spiral is the Core Pattern ……..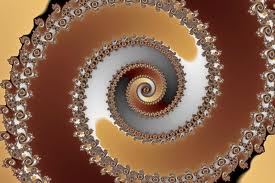 In the chatroom, Cre8ting, Juxta and DC were talking about the difficulty of not repeating the body's core maladaptive patterns, over and over, throughout life.
After a period of time, and a good deal of personal work, it becomes possible to describe this core maladaptive pattern to oneself. Here is what DC said about dealing with these uncovered patterns in his own words, more or less, prompted by the other participants. Juxta will write more about this, and in the meantime asked me to put something together while it was current/emergent. I have used DC's words where possible because of the energy they contain, like a rapier reaching for the essentials.
I have put certain statements in bold, which seem greatly significant to me, but you may find other statements important to you.
At the centre of the spiral is the core pattern of the body/brain.
on the spiral you are both at the center
it is the hardset pattern to not identify with cause all other patterns grew from it
all patterns spin off the core pattern
the core pattern is the initial one
the core pattern is the first cognizance negative experience that was not processed successfully
it could have been anything minor
 the body repeats the pattern by creating situations

 in order to process it correctly
problem lies in toddler brain and emotions not being mature enough to understand all that is happening
so often it is a echo of the parent that is manifested
the key, and this is new info from me…
it is the first cognizant experience that is not 'safe' or
 predictable' that cements into the core behavior pattern

very few humans have the ability to recall the experience that started it all
that is why the fix is not in the past
it is in changing the behavior in the present
all the newage and self help in the world is not going to change the past – it is locked in to creation
you can only see what manifests now and not identify with it
'no this is not me now – it is obsolete thinking'
to understand it
you were too young to process the experience
if you had been mature you would have responded correctly
'do not hit me, i am a child and you are an adult and should know better'
instead it becomes 'i get attention by being bad'
immature reading of the experience
it is the attention that we get addicted to
pain or pleasure is a side effect.
Now, pay attention.
the reason why the patterns repeat is because they never got processed correctly and are still not getting processed correctly – it is a brain trying to make reality 'safe' and 'predictable'
it is trying to heal itself
because these patterns lead to cancer, anxiety, bad heart, disease, etc etc
it is mechanics
but trying to fix the patterns is trying to fix the body
you are not the body – you are the Self
fixing the body is not as important as waking up is
fixing the body is being part of its creation
you need to be creator in a new form
done…
the chatterbox is the brain trying to process information that won't process
now you know why it sounds so manic
Random Posts